PEEK JS-S1 Rod is one specifications of NATUREGEN® PEEK. It is a medical implantable material which is suitable for the manufacture of medical implant devices.
PEEK JS-S1 has passed the biological compatibility test, conforming to the requirements of ASTM F2026 and ISO 10993.
The NATUREGEN PEEK Rod is suitable for machining, the processing equipment can use conventional metal processing CNC equipment. The machining tool is recommended to use hard alloy or diamond with high hardness. And the cooling medium should use purified water or compressed air which are fully filtered, to ensure that no contaminants are introduced to affect the biocompatibility of PEEK polymer.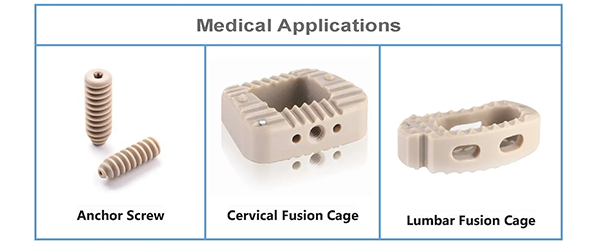 Sterilizatio
n:
NATUREGEN PEEK has excellent radiation resistance, the impacted of its mechanical properties and chemical stability are very limited when exposed to high doses of gamma ray irradiation.
NATUREGEN PEEK has a very stable chemical structure that enables it to maintain good hydrolysis resistance under high temperature. It can be sterilized using conventional steam sterilization method, which also can be repeated multiple sterilization cycles.
3. After three repeated EO sterilization cycles, the residues of EO in NATUREGEN PEEK products can still within the limits specified in ISO 10993-7.
When choosing the sterilization process, users should try to select the above verified sterilization method. If users using other sterilization methods, the new method should be verified to ensure that the performance and safety of PEEK products will not be reduced.