PEEK JS-S2 3D Printing Filament
PEEK JS-S2 3D Printing Filament
PEEK JS-S2 is another grade of NATUREGEN PEEK. This grade of PEEK has good fluidity performance, it is suitable for injection molding of implanted devices with thin structure, and 3D printing manufacturing of personalized implanted devices.
3D printing of personalized implanted devices is the most perfect way to prosthetics surgery in currently. NATUREGEN PEEK 3D printing filament is specially designed for FDM technology, it's good melt fluidity, excellent mechanical properties and biocompatibility  make it a popular choice for medical devices.
Product Specification
Trade Name : NATUREGEN® PEEK
Specifications:Filament
Grade:JS-S2
Diameter: 1.7mm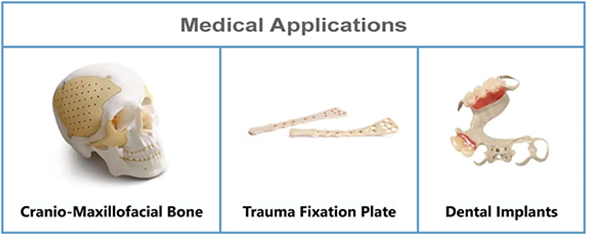 Properties of PEEK JS-S2 3D Printing Filament
PEEK JS-S2 Filament can be used for implantable medical devices. It's produced in accordance with the ISO 13485 and ISO 9001 Quality Management System. The material properties meet the requirements of ASTM F2006 and ISO 10993. PEEK filament of high flexibility and high strength is produced through continuous extrusion molding. It is very resistant to heat and wear, and has a high chemical resistance. PEEK also has a high weight-to-strength ratio and is often used to replace certain metals.
Excellent Chemical resistance
High-temperature resistance
High toughness and mechanical strength
Sterilization:
NATUREGEN PEEK has excellent radiation resistance, the impacted of its mechanical properties and chemical stability are very limited when exposed to high doses of gamma ray irradiation.
NATUREGEN PEEK has a very stable chemical structure that enables it to maintain good hydrolysis resistance under high temperature. It can be sterilized using conventional steam sterilization method, which also can be repeated multiple sterilization cycles.
3.After three repeated EO sterilization cycles, the residues of EO in NATUREGEN PEEK products can still within the limits specified in ISO 10993-7. When choosing the sterilization process, users should try to select the above verified sterilization method. If users using other sterilization methods, the new method should be verified to ensure that the performance and safety of PEEK products will not be reduced. Medical Applications of PEEK JS-S2 3D Printing Filament Since PEEK material is sterilizable, it can be used for several applications, including manufacturing custom-made implants. PEEK has properties similar to the human bone: an implant 3D printed with PEEK could promote tissue reconstruction around the implant, accelerating osseointegration. It's common to use the custom PEEK 3D printer filament to make the PEEK cranioplasty implant or others. Junsun provides the perfect PEEK filament price solution, and you can turn to 3D printing of PEEK to design customized medical devices. ·Cranio-Maxillofacial Bone ·Trauma Fixation Plate ·Dental Implants